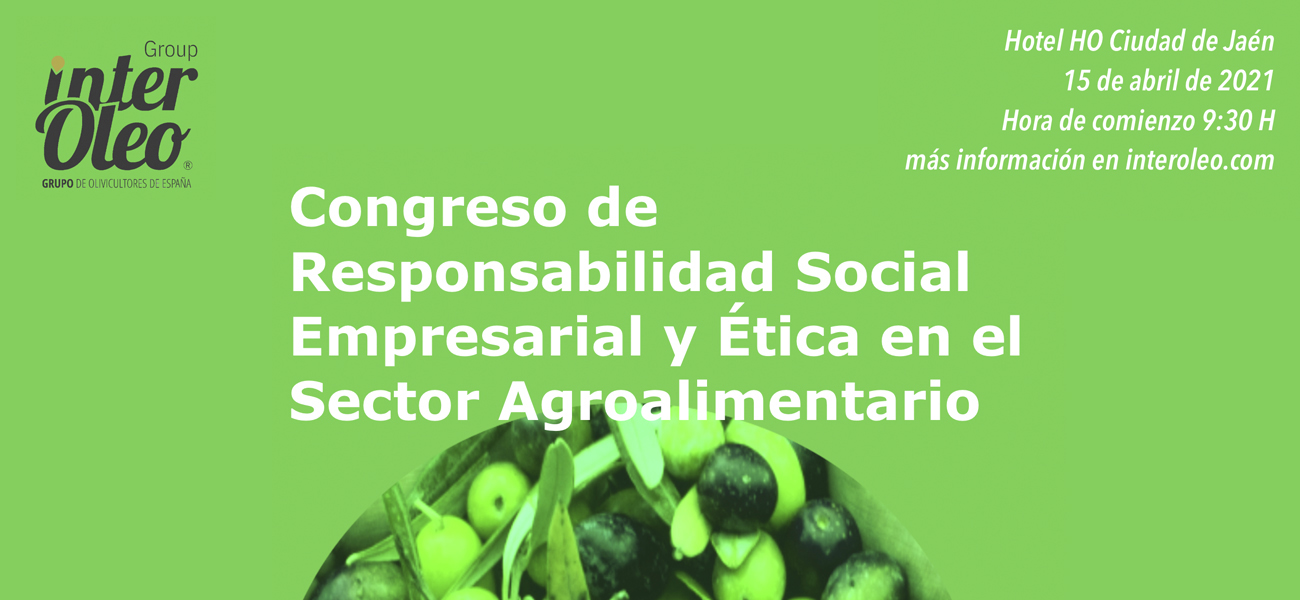 Here at Grupo Interóleo, with our commitment to and integration in Ethics, Corporate Social Responsibility policies, as well as our commitment to fulfilling the Sustainable Development Objectives and the Agenda 2020-2030, we have designed a Business Congress with a formative and informative seminar. This seminar will bring knowledge, skills, tools and positive experiences of other companies that have already been working on these initiatives for the agri-food sector business community, as well as spreading the positive results across all areas of the business world of agri-food companies.
With this Congress and through its speakers, we want to present the main benefits that CSR, the SDGs, the certifications in CSR, Collaborative Economy, Circular Economy, Codes of Ethics and Good practices, Plans of Equality, Family Conciliation, etc… and how to apply them to the agri-alimentary sector.
Our companies must be sensitive to and actively participate in the problems that exist in relation to the environment. That's why today's society demands that our companies play a more active and committed role in Corporate Social Responsibility.
Day: 15 October 2020.
Format: On-site.
Place: Hotel HO. Jaén.
Schedule: 09:30 to 14:00 and 16:00 to 19:30.
Networking Breakfast: 11:30 to 12:00
Level of performance: National.
The Congress wants to contribute to the Andalusian agri-food industry reaching the visibility and social and political recognition it deserves, as it is the sector that contributes the most production and employment to the Spanish industry. Not only for its importance and strategic interest, but both because it forms an essential part of the food chain and because it is a key tool for rural and territorial development processes and the sustainable value contribution it offers.
09:30 to 10:00: Inauguration.
10:00 to 10:30: "Differentiating and competitive factor of the policies of Ethics and CSR, in the business world and its contribution with the stakeholders".
President of the Spanish Association of Managers of Social Responsibility. Global Director of Corporate Ethics and Sustainability at Telefónica since February 2014. Member of the Advisory Council of the SERES Foundation. Elena Valderrábano Vázquez.
 11:00 to 11:30: 'Certification of SDG-oriented CR management as a commitment to excellence'.
Southern and Canary Islands Regional Director of Bureau Veritas, chief auditor of ISO 9001, ISO 14001, ISO 45001 management systems and IRCA senior lecturer. Francisco Martin Santamaría together with Gemma S. Ventín. Lecturer Doctor in CR, Bureau Veritas. Member of the International Network of SDG Promoters. Technology Innovation and Economy Summit Leader Circular. New York Summit Inspiring Committed Leaders International
11:30 to 12:00: Networking Breakfast.
12:00 to 12:45: 'How to strengthen responsible markets within the agri-food sector'
President of the COPADE Foundation. Francisco Javier Jiménez Candela.
12:45: to 13:45: Round table: 'The reality of agri-food companies around CSR compliance. Why is it necessary?'
Chairman of the Inter-Oil Group: Juan Gadeo.
President of COVAP: Ricardo Delgado Vizcaíno.
General Manager of Única Group: Enrique de los Ríos.
Moderator:  Francisca Molina Herrador
 Afternoon schedule:
 16:00 to 16:45: 'Strategic planning and SDG: A business perspective'. Director of the Technical Office and Deputy Secretary of the 'Estrategias' Foundation Inmaculada Herrador Lindes. SDG and Strategic Planning.
16:45 to 17:45: Round table: 'Women in the world of agribusiness. SDG 5 compliance.'
Director of Aceitunas Torrent: Blanca Torrent.
Director of Competitiveness and Sustainability of FIAB: Paloma Sánchez Pello.
Commercial Director of Castillo de Canena: Rosa Vaño.
Moderator Francisca Molina Herrador.
17:45 to 18:00: Being the 15th of October, the International Day of Rural Women, Grupo Interóleo wants to reward the courage, struggle and bravery of women in rural areas, so we are giving the I Interóleo Prize to Rural Women.
18:00 to 18:30: 'The importance of SDGs in the Agri-food sector' Director of Marketing and Development of the United Nations Global Compact. United Nations Global Compact. Marta Tomas Hernando.
18:30 to 19: 00: Interview with Enrique L.P Belenguer Salvador. President of the ÉTNOR Foundation and founding partner of Inmerco Marketing. University Expert Human Performance Improvement (UNED. University Expert in Sociological Research (UNED). Graduated in Commercial and Marketing Management from ESADE Business School. Diploma from BABSON University Business School (Boston, US.). Advanced Management: General Management by ESADE Business School
Interviewer: Francisca Molina Herrador
19:00 Closing.